Official Site of the USS MARS AFS1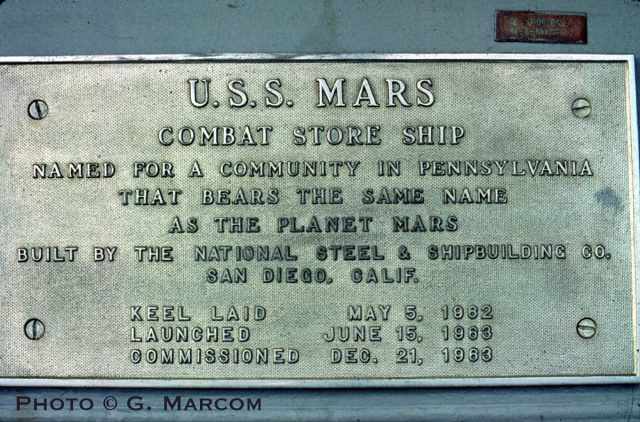 Here is a picture of Our Ships Bell in Mars Pennsylvania.
If traveling to see our bell take Rt 228 East off I79
to Pittsburg St and Grand Ave in Mars PA.
Arial view of our Bell as it sets in the town square.
I have established the months of February & July as publishing months. Issue 44 is now ready to be download. Please check the Newsletter page for all issues of our SupplyLine.
Chuck Jones Editor
Someone at this past reunion has come up with a very good idea of putting a page on our web site to submit a request to host a reunion. That page is now on on this site and is called just that: "Host A Reunion?"
Check out the Reunion and Photo Album Page for I have posted all the latest information on the USS MARS AFS1 2017 Reunion.
We have now located over 1513 former crew members. To keep this number growing we need your help. If you are visiting this site for the first time and you are a former crew member please go to the Welcome Page and fill out a "Found Martians" form and submit it. We enjoy Welcoming back aboard Found Martians.
We have a new page on our web site called The Martian Ship's Store. Please check it out for all your product needs. Remember all donations for these items helps fund the hospitality room at all of our reunions. Bob Martin is a fine man with a true Martian attitude. Keep checking it for new items.
We have another new page in the menu list called "STORY BEHIND OUR BELL" It was fun for me to develop it and I am proud of all the accomplishments our association has had over the years. Please take a look at this page and let me know of your thoughts.
Art
---
R. C. Medley DEC 63 - DEC 65
G. C. Watkins DEC 65 - DEC 66
H. Riley DEC 66 - J UL 68
P. A. Anderson JUL 68 - DEC 69
T. O. Nutt DEC 69 - JAN 71
A.E. Knutson JAN 71 - AUG 72
R. C. Adams AUG 72 - AUG 74
D. R. McCrimmon AUG 74 - NOV 75
H. W. Bademan NOV 75 - OCT 77
S. Ralph Jr. OCT 77 - J UN 79
J. F. Baumgardner JUN 79 - AUG 79
C. K. Hutchinson AUG 79 - JUN 81
E. A. Brewton JUN 81 - APR 83
J. A. Moriarty APR 83 - JAN 85
I. M. Hipper JAN 85 - JUN 86
J. J. Coonan Jr. JUN 86 - FEB 88
M. B. Nordeen FEB 88 - AUG 89
W. W. Pickavance AUG 89 - FEB 91
M. A. Ostertag II FEB 91 - FEB 93
---
Download and print these cards out to hand out to fellow Veterans.
Also check out the Crew Listing Page to see who has contacted us.
If they have contacted us by submitting a "Found Martian" form, then the word contacted will appear after their name. If you wish to contact a shipmate, then click on Send Me An Email, the link is provided below:
Updated: 16 October 2017
Art Sweetland
Web-Master
I am continuing a good relationship with Mayor Gregg Hartung of Mars PA. He likes to include us in some of the city functions as best he can, I road in a car in the Fourth of July Parade and what an honor that was.
See our new page: Mars Museum and Artifacts page.
Art
Please visit the Official Site of MARS Borough