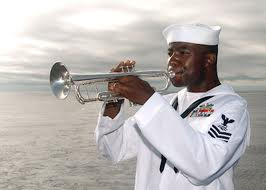 Taps
Day is done, gone the sun
From the lakes, from the hills, from the sky
All is well, safely rest
God is nigh.
Fading light dims the sight
And a star gems the sky gleaming bright
From afar, drawing near
Falls the night.
Thanks and praise for our days
Neath the sun, neath the stars, neath the sky
As we go, this we know God is nigh.
Recent Deaths:
Darren E Barrett YN3 90-93
Jerry L Brown SKC 84-87
Douglas Ray Haas HC1 65-67
Charles Willard Horan SH3 63-65
Clarence E Johns SH2 63-65
William C. Kauffman CDR (XO) 1973-75
Brian Lester LCDR 84-86
Ronald E Nelson MM1 69-71
John M Phelan SK3 66-67
Click here to see the list of deceased crew members.