2023 of the USS MARS AFS-1
Will be held in Bloomington, MN
September 13th - 17th
Hosts: Dave & Bel Lilligren
Use the link below for your room registration: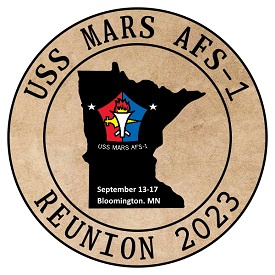 Reunion 2023 Registration Form Click on "Logo" above to download
Please make note of any dietary restrictions on your form.
Bel and I heartily welcome friends and shipmates to the 2023 USS Mars Reunion. The Embassy Suites Hotel in Bloomington is where we'll be spending most of our time together, and we have a group rate locked in at $119 a night, including a hot breakfast and other amenities.
We have now been to five Mars Reunions and thought it was time to host one in the Upper Midwest. The Twin Cities and the state of Minnesota have a lot to offer visitors, including the nearby Mall of America.
If you have never been to a USS Mars Reunion, we strongly encourage you to come and join us in 2023. You won't be disappointed.
We are excited and look forward to seeing old friends and meeting new ones in Bloomington!
Dave & Bel Lilligren
Anyone taking pictures at this reunion please email them to me
at: mars-web-editor@comcast.net
Pictures are the driving force for attendance at next reunion.
2023 Reunion Update
We are still working out the details and budget matters before we can open up reservations for the reunion, but I can provide an over view of the agenda for what's in store for us.
Wednesday - Check-in; meet and greet
Thursday - River cruise (with luncheon) on the Minneapolis Queen. The crew of the USS Towers had a reunion here last year and this cruise was the highlight of their trip. We will have the opportunity to ride this paddle boat through the locks near downtown Minneapolis during our 2-1/2 hour cruise.
Friday - St. Paul Gangster Tour. We will have a two-hour tour (by bus, in comfort) of gangster sites that were active during the 1930's prohibition era. Be prepared to be both entertained and educated!
Friday evening - Cocktail hour, followed by an Italian buffet at the hotel. After the buffet, we will be holding a raffle to raise money for the reunion fund. We always have a blast doing these raffles, with the help of our famous emcee, Bob Schorfheide.
Saturday - Free time to go site seeing (check out the famous Mall of America, for example).
Saturday Evening - Cocktail hour and banquet at the hotel.
NOTE: Hotel guests at the Embassy Suites will get a FREE made-to-order breakfast from Thursday through Sunday morning. If you haven't made your reservations yet, please do so soon!
Dave & Bel
---