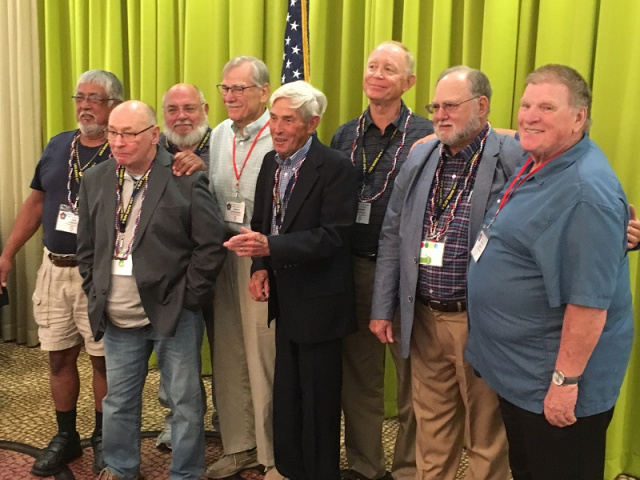 Plank Owners at the 2019 Reunion
From Left to Right:
Dave Romero, Dwight Kauffman, Donnie Nolan, Joe Rydzewski, Bob White, Dennis Hatfield, Larry Jones and Russell Green.
__________________________________________________________________________________________________________
16-20 September 2020
Norfolk, Virginia
In the midst of the current global pandemic situation, and after careful consideration for everyone's safety and health, as well as trying to adhere to travel restrictions placed by government, state and local guidelines, I have regretfully decided to postpone our scheduled 2020 USS Mars AFS-1 reunion. The decision to cancel the reunion was not taken lightly as I know how all of you look forward to this event of comradery and fellowship. As your host, I feel that it would be better to reschedule for Norfolk next year when hopefully this crisis will have subsided or at least contained to the point we can gather.
I envision a reunion where it will be safe to socialize and less unhindered so that I may provide all of you with a spectacular event that everyone can look forward to and most of all remember for many years to come. I shall proudly continue to be your host and forge ahead with plans for 2021 here in Norfolk. I will keep everyone updated on next year's planned reunion dates and proposed events throughout the upcoming year.
For those of you who have already made hotel reservations and other travel plans, please make sure you are able to cancel them.
I hope everyone is safe and will continue to mitigate the spread of the COVID19.
"Do what you can, with what you have, where you are." —Theodore Roosevelt
Use this link to cancel your reservation:
You may now make reservations through the Hotel's group reservation link below or call
(757) 622-6664
Book your group rate for USS Mars AFS-1 2020 Reunion